Hunting Cabin/Getaway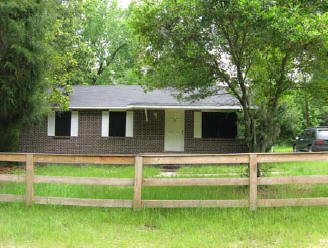 Picture yourself in this three bedroom brick house, located on a rural 1+ acre site. This house is perfect for a secluded retreat for hunting, relaxing, hiking, fishing and horseback riding or a wonderful country home.
This unique property is on the edge of the Barbour County Wildlife Management Area, which offers year round hiking and riding (non-motorized vehicles only). It feels remote, but is less than 1/2 mile from the Mt. Andrews community and only 6 miles from the town of Midway, with good roads all the way to the door.
Because of this unique location, one secluded acre feels like more. Built in 1979, this brick home is in great shape. It has three bedrooms, a living room with decorative fireplace, a large country kitchen (kitchen & dining room), bath, and laundry area. The house has county water and electricity, central heat and air conditioning, and is less than 1,000 feet from a fire hydrant.
Download pictures, details and a map of the location (pdf)
Email: coxm@team-support.com

Resources and Additional Information on the Bullock County Area
Union Springs, Bullock County Tourism Web Site www.unionspringsalabama.com
Union Springs Bullock County Chamber of Commerce www.usacoc.com
Barbour County Wildlife Management Area - Info at www.outdooralabama.com
Back to Home